What is Winterfest?
This year the Village of Walloon Lake is kicking off its 6th Annual Walloon Lake Winterfest. The Walloon Winter Festival has grown in attendance and popularity over recent years, making it a 'mark your calendar' affair for locals and tourists alike. Why has Winterfest garnered so much attention? Better yet, why haven't you come to find out for yourself?
Community Celebration
Festivals are known to thrive when a community-driven spirit is harnessed, creating an energy and buzz that has a unique way of connecting a crowd of people.  Northern Michigan is known for winter sports, local distilleries and wineries, craft breweries, independently owned quaint businesses, and lakeside dinning with exceptional views.
Winterfest effortlessly combines community life with quintessential Northern Michigan delights.  It has given people an opportunity to attend a free event and explore a small portion of Northern Michigan in a big and entertaining way.
Michigan Craft Beverages
Winterfest is held downtown Walloon Lake Village with the main event happening in and around the Talcott Event Venue.
Explore local distilleries, breweries and wineries at Walloon Lake's pop-up Tasting Room featuring Michigan Craft Beverages including, Wise Men Distillery, Big Buck Brewery, Grand Traverse Distillery, Gabriel Farms & Winery, Mammoth Distillery, High Five Spirts, and more.
The event is free to attend with Tasting Room tickets available for purchase on-site during the four-hour event. It's an incredible way to interact with local business owners and taste something you may have not experienced (or thought to experience) before.
Pre-Sale Tasting Room tickets are available with special offers and Winterfest keepsakes.

Vintage Snowmobile & Ride
The Petoskey Snowmobile Club has hosted an Annual Vintage Snowmobile Ride and Antique Snowmobile Show in partnership with for the past five years.
Club members and supporters drive their vintage sleds from Petoskey to Walloon Lake and park in the Village to display for the community to view. The Fest organizers vote for the best vintage sled and the winner is awarded a Barrel Back Restaurant gift card.
Many snowmobilers participate and ride to Walloon Lake for Winterfest, with the trailhead leading directly to the Village where recreational fuel, lakefront parking, food, and tasty beverages await.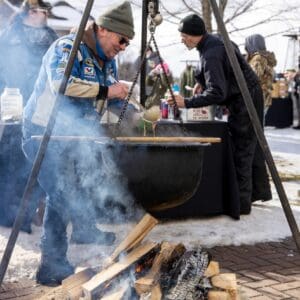 Free Bean Soup & Hot Cocoa
The Petoskey Snowmobile Club also offers complimentary Bean Pot Soup, which is served from a cast iron pot, warmed over open flames and embers.
The soup has a creamy broth base, boasting flavors of a curated spices, navy beans, and smoked ham. The Club's soup is stationed right outside the Talcott and warms the taste buds upon first bite.
Walloon Lake Inn, a historic fine dining restaurant, displays an elaborate Hot Chocolate Bar. Complete with marshmallows, peppermint sticks, chocolate curls, and whipped cream – warm up with a free cup by the firepits.
Giveaway Prizes
Winterfest offers a variety of giveaway prizes that are a fun added surprise for attendees.  By purchasing tasting room tickets, you are automatically entered into the drawings.  Barrel Back Restaurant, Walloon Lake Inn, Hotel Walloon, Tommy's Walloon, and many tasting room vendors offer various prizes that are awarded every half hour.
The grand prize is a lavish two-night stay at Travel + Leisure's No.1 Resort in Michigan, Hotel Walloon. It's a way to thank the supportive community and offer additional experiences that extend past their day at Winterfest.
Stay on-site with cozy accommodations at Hotel Walloon. Reserve our Walloon Winterfest Stay package to receive special offers and Winterfest keepsakes.
Ice Sculptures, Bars & Carving
Wise Men Distillery has been a vibrant addition to Winterfest over the past few years surprising event goers with custom ice sculptures.  Last year included an ice bar where drinks were served.  There has been an interactive ice luge, which perfectly chills your Wise Men beverage.
This year an ice igloo is suspected to be in the works.  Wise Men General Manager Tom Borisch notes, "I have been coming to Walloon Lake for the summertime all of my life.  And while summer is most definitely my favorite Walloon season, winter is beautiful in Northern Michigan as well.
Winterfest is a great event to bring everybody together in the Village during the "not so warm and sunny" months to enjoy friends, fun, and amazing Michigan based craft spirits."
Cheers to a Walloon Winter
The depth of Winterfest travels to past, current, and future community members of Walloon Lake Village.  A community member includes all who live, learn, work, and play in the community.
Whether you are a year-round supportive member, a seasonal goer, a frequent visitor, or you haven't been before, we welcome you to Walloon Lake.  We look forward to seeing you on Saturday, February 18, 2023!
If you'd like further information on Winterfest, please view the Facebook Event.