Hotel Walloon Receives 2023 AAA Four Diamond Rating for the Eighth Consecutive Year
A property with a Four Diamond distinction offers upscale style and amenities with the right touch of service.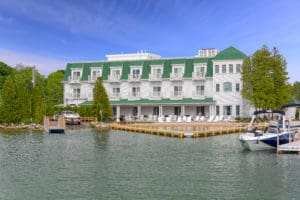 AAA Four Diamond Award
Hotel Walloon has been recognized with the 2023 AAA Four Diamond Award for the eighth consecutive year. Recognizing overall quality, range of facilities, level of hospitality, and cleanliness, this award is granted to hotels across North America that pass the rigorous inspection process during in-person, unscheduled visits.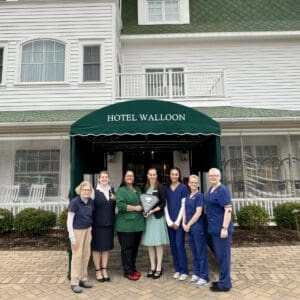 An Incredible & Dedicated Team
"As one of the highest distinctions within the travel industry, we are so proud to be the only privately owned Hotel in Northern Michigan to receive the Four Diamond rating. A special thank you to our incredible team for continuously providing the highest level of cleanliness and service to create a world-class experience for guests on Walloon Lake." – Emily Emmott, Hotel Walloon General Manager
A property with a Four Diamond distinction offers upscale style and amenities with the right touch of service. For more than 80 years, AAA's professional inspectors have evaluated hotels and restaurants to help travelers make better decisions with the trusted AAA Diamonds.
What We Offer on Walloon Lake
Hotel Walloon offers an up North atmosphere with unlimited adventure.  The Hotel, open year-round, provides premier lodging and an unparalleled level of hospitality for guests during their stay.
The central location of the Hotel will encourage guests to explore the natural beauty that Northern Michigan has to offer, all while enjoying the vintage elegance and warm environment of the Hotel.
Hotel Walloon continuously creates memorable experiences for its guests and earning accolades like the Michigan Restaurant & Lodging Association 2022 Resort of the Year and the Best Wine Country Hotel adds to the vintage charm it proudly boasts.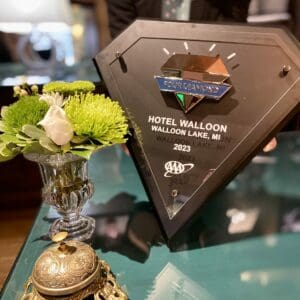 Experience Northern Michigan Luxury
Hotel Walloon is a luxury boutique hotel that hosts 32 unique guest rooms. The Hotel features include complimentary valet service, a private bar exclusively for guests, and four complimentary food offerings during the day including a light breakfast, light snacks, and evening hors d'oeuvres, followed by a dessert display.
The Hotel also offers luxury and modern amenities including a billiards room, a 24-hour fitness facility, and an outdoor heated whirlpool spa, and outdoor lakeside firepit. Dining opportunities are located a few steps away at Barrel Back Restaurant or the fine dining establishment, Walloon Lake Inn.
Hotel Walloon is available to book your Northern Michigan getaway.  While making your reservation, inquire about the local activities and packages to enhance your experience.  Please call Hotel Walloon at (231) 535-5000.