Hosted by Danielle's Blue Ribbon Events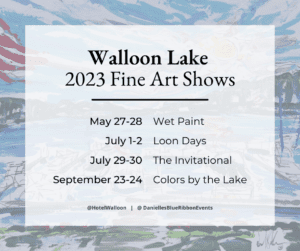 Explore collections from local and nationally acclaimed award-winning artists specializing paintings, sculptures, pottery, metal art, digital art, bath & body, yard art, and more!
All Fine Art Shows are hosted in Village Green Park in Downtown Walloon Lake Village. Open 10:00 AM to 5:00 PM daily.
May 27 & 28, 2023  – Wet Paint Fine Art Show
July 1 & 2, 2023 –  Loon Days on Walloon Lake Art Show
July 29 & 20 –  The Invitational on Walloon Lake Art Show
September 23 & 24 –  Colors by the Lake Fine Art Show
Luxury accommodations are available steps away at Hotel Walloon. On-site dining is available at Walloon Lake Inn and Barrel Back Restaurant. Please visit their website to view current menus and hours of operation.