Meetings, Weddings and Vacations | What You Need to Know
People today are figuring out a new way to plan, celebrate and travel.  Travel trends have shifted to local, experience-based, and adventures within natural habitats or national parks.  Although travel has been paused for many, Hotel Walloon has certainly peeked interest for many guests looking to escape the city and busy climates downstate. People are blissfully soaking in every intimate and peaceful moment the glacial blue waters that Walloon Lake has to offer.
MICRO-Trip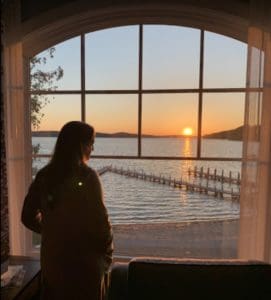 Microtrips require less need for vacation time and less time away from work; yet they provide the same cultural and mental benefits as longer vacations do. Though you may only be gone for 2-4 days, you will still benefit from stress relief, creative boosts, and cultural expansion since you will be leaving your own comfort zone regardless of where you are going.
Sometimes, the best way to reboot is to gather your best friends and explore. Whether you are looking to relax on luxurious striped towels on a private beach, explore the great outdoors, host an exquisite dinner with wine pairings from a Sommelier, or settle in a cozy porch chair with a book; Hotel Walloon delivers in making the most out of your quality time.
The Village of Walloon Lake offers countless activities to keep you engaged, but also offers countless nooks to offer a reprieve from the outside busy world.  History, delectable cuisine, and one-of-a-kind experiences are steps from Hotel Walloon's doors.  We have the staff, service, and amenities to truly make a micro vacation feel like a complete dream.
MICRO-Meetings
Do not be afraid to experiment with new styles of meetings; your company culture could benefit from something more unique.  A trend that has been popular lately is Second City Travel.  Essentially this is the practice of skipping out on a major city and visiting a lesser known one nearby.  This trend is more cost effective, less crowded, and typically more culturally beneficial.  You do not need to visit the Cherry capital to experience tasty Michigan cherries.

Jeff Bezos, the Founder and CEO of Amazon, has something called the 2 pizza rule.  One of his pet peeves is group-think, so he always ensures that meetings are kept small enough for everyone to contribute. Are there more people than two pizzas could feed? That is too many.  Bill Gates, the founder of Microsoft, ensures efficient meetings with no more than (10) people attending.  Every single person should have input to the meeting, otherwise, they shouldn't be there.  Gather your (10) crucial people and escape to invigorate ideas, foster teamwork, and inspire your employees.  This is an interesting spin on group collaboration and relevant to what meetings look like today.  Meetings are small, intimate, and even partly (or mostly) virtual.  With virtual meetings being hosted worldwide for most of 2020, people are itching to be in person, safely.
Destination Michigan has been an incredible partner to the hospitality industry, working tirelessly to organize venues, hotels, and meeting planners all in the same space to talk about current and future meetings.  Every precaution is triple checked, and restrictions are followed meticulously.  Hosting meetings in Region 6 (Northern Michigan) in the State of Michigan allows a lot more flexibility than our Southern Regions.  We can host (50) person meetings, safely, socially distanced, provide customized catering and fulfill basic audio visual needs.  Meetings will happen again and be streamlined as we were all once accustomed to, but do not fear a productive, exclusive getaway to brainstorm, network and maybe just relax a little.
Take a look here to see what Hotel Walloon is doing to keep you and its employees safe.
Hear it from the General Manager herself, Emily Emmott: For Your Safety, COVID 19 Video
As the corporate and nonprofit event industries discuss the future of hybrid events, wedding planners are having the same discussions.
MICRO-Weddings and MINI-Monies
It is no secret the health crisis has put everyone on their heels, including stiletto wedding heels.  A lot of couples are choosing to wed in smaller and more intimate settings due to the pandemic and being forced to downsize or cancel their original wedding plans.  A minimony is a mini ceremony held with your loved ones, an officiant and select vendors that your original larger wedding would have included.  Basically all of your wedding dreams, scaled down 95%.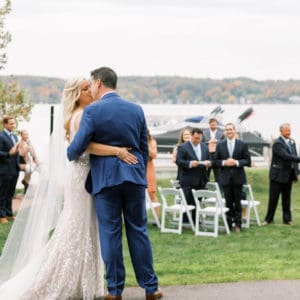 A micro wedding typically includes a guest list of up to (50) guests – often immediate family and very close friends.  Micro weddings allow couples to focus and spend the majority of their budget on smaller details, whereas it would have been difficult to create this for a guest list of 200.  Picture your first dance as a married couple under glistening moonlight, warmed by an enchanting crackling fire, craft cocktails, sweet and savory bites created specifically to your liking, all while  overlooking the glistening waters of Walloon Lake.  We make these exact, picturesque moments come to fruition for our couples.
Walloon Lake Inn has been a very popular venue for couples celebrating weddings this year.  Boasting Lakeside ceremony views, lush landscaping, elegant chandeliers, a Sommelier onsite and an Executive Chef ready to plan and plate a locally sourced menu; the Walloon Lake Inn Restaurant has everything our micro weddings are looking for.
The Village of Walloon Lake offers a variety of customizable and intimate places to celebrate with your loved ones.  We specialize in high level customer service along with impactful and meticulously detailed events.  We will do the planning, while you plan your next trip, possibly a minimoon?
Although times are unique and challenging for planning any sort of event, whether that be a life event or corporate event, it is not impossible.  The Village has over 3,000 sq feet of meeting space, suites, luxurious amenities, centralized location, and a pristine environment.  The meticulous training and culture that is instilled in our employees, matches the beautiful Hotel.  Hotel Walloon is not a possibility for your event, it is the next place for your event.  Come and visit us to find what you may have been missing this whole time.