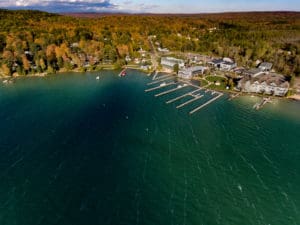 From family adventures at local apple orchards to scenic drives through Northern Michigan's brilliant fall colors, savor every autumn moment while enjoying the warm atmosphere created by the gracious team at Hotel Walloon. Enjoy the crisp morning air as you stroll along the shoreline of Walloon Lake. Relax with a good book and cocktail at the Hearth Room Bar. Dine at Barrel Back named a top waterfront restaurant by Eater Detroit. Whether your visiting the Petoskey Wine Region during the annual harvest or seeking a calm evening by the lakeside fireplace, discover something new this season. Travel from our central location to five of our favorite fall day trips.
1. Pond Hill Farm & Tunnel of Trees
25 Miles from Hotel Walloon
An iconic destination for visitors seeking the beauty of Michigan's fall colors. Drive through the scenic 20-mile route for a day of family fall fun complete with hayrides and cider tastings at Pond Hill Farm. Explore the quaint streets of Cross Village and dine with the historic Legs Inn.
2. Little Traverse Wheelway
11 Miles from Hotel Walloon
Enjoy the refreshing lake breeze and waterfront views of vibrant Fall colors by biking or e-biking the Little Traverse Wheelway. Stop for lunch in historic Downtown Harbor Springs and don't miss Tom's Mom's Famous Cookies. Explore the biking selection for local rental recommendations.
3. Petoskey Wine Region
5 Miles from Hotel Walloon
Filled with picturesque fall views and complex wine flavors, there is no better time to visit the Petoskey Wine Region than during harvest season. Sip sweet Michigan maple syrup flavors at America's First Sugarbush & Winery, Maple Moon. Relax and listen to live music on the outdoor deck at Boyne Valley Vineyards. Sample local favorites at the Hearth Room Bar when you reserve your stay with the USA Today Best Winery Hotel.
4. Autumn Golf Season
10 Miles from Hotel Walloon
Put your skills to the test during perfect autumn day trips on a Championship Golf Course for beginner to expert level golfers tucked away on the Northern Michigan shoreline and featuring scenic lake views.
5. Boyne Mountain Resort
10 Miles from Hotel Walloon
Discover a magical fall day at one of the areas many premier Ski Resorts. Visit Boyne Mountain Resort and take a scenic chairlift ride to the top of the mountain. Go horseback riding through the colorful trails at Boyne Highlands Resort. Bike the rolling hills or explore the breweries at Tree Tops. End your evening with a relaxing soak in the outdoor hot tub at Hotel Walloon.
6. Charlevoix
24 Miles from Hotel Walloon
Stroll through the vintage streets of Downtown Charlevoix. Home to the Annual Apple Festival, this Lake Michigan town features many apple orchards, pumpkin farms, and stunning waterfront views. Spend the afternoon shopping in the historic district or take a sunset sailboat cruise.
7. Boyne City Main Street
7 Miles from Hotel Walloon
Named a top Main Street in America, enjoy a fall day on the decorated streets or exploring local coffee shops. Visit Lavender Hill Farm for sunrise yoga in bloom and concerts at the farm. Attend family-friendly events throughout the harvest season including the Annual Fall Fest.
8. Brewery Tours
15 Miles from Hotel Walloon
Travel to downtown Petoskey for locally made craft beer and an inside look behind the scenes at Petoskey Brewing. Visit Michigan breweries like Shorts Brewing Co. and Cheboygan Brewing for more delicious seasonal beer flavors.
9. Mackinac Island
45 Miles from Hotel Walloon
From horse-drawn carriage rides to exploring the fudge capital of the world, travel by ferry to one of our favorite day trips, Mackinac Island. Escape the bustling crowd and take in the most picturesque fall views. Bike the scenic eight-mile trail around the island and visit the iconic Arch Rock. Explore rich Michigan history at Fort Michilimackinac and indulge in savory cuisines while watching the sunset over the Straights of Mackinaw.
10. Walloon Lake
Watch as Walloon Lake comes to life with the colors of the season. Reserve a scenic Duffy Boat Cruise. Hike through local trails and preserves maintained by the Walloon Lake Association and Conservancy. Indulge in Northern Michigan cuisines on the outdoor patio at Walloon Lake Inn. Wake up to breathtaking views from your private lakeside balcony at Hotel Walloon.
Design your own fall day trips or allow our concierge to assist with recommending this areas best. Explore more activities.