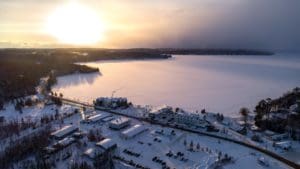 From horse-drawn sleigh rides through charming towns to exploring the snowy landscape of local trails, Northern Michigan offers an authentic 'Winter Wonderland' experience. Travel from our central location to five of our favorite day trips this winter.
Straights of Mackinac | 47 Miles from Hotel Walloon
Spot Michigan's fascinatingly beautiful blue ice at the Straights of Mackinac. Spend the day exploring local attractions in Mackinac City or visit the Mackinac Point Lighthouse.
Ski Resorts | 10 Miles from Hotel Walloon
Ski fresh powdered slopes, adventure snowy trails by snowshoe, cross country ski, or fat tire bike, and more at Northern Michigan's premier Ski Resorts.
Petoskey Wine Region | 5 Miles from Hotel Walloon
Tour 14 unique wineries and sip your Petoskey Wine Region favorites from the comfort of an outdoor igloo.
Harbor Springs | 44 Miles from Hotel Walloon
Stroll through the glistening lights of the Enchanted Trail and explore the charming city of Harbor Springs.
SkyBridge Michigan | 10 Miles 
Take a walk across the world's longest timber-towered suspension bridge and catch a glimpse of the beautiful winter landscape.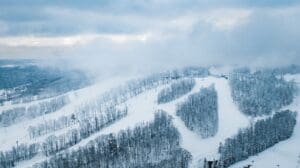 Frozen Lighthouse Tour | 22 Miles
Explore the lighthouses of the West Coast in all of their winter glory. Begin at the Charlevoix South Pier Lighthouse and see where the adventure takes you.
Village at Grand Traverse Commons | 68 Miles
A unique experience that offers a variety of shops, restaurants, wineries, and even a tour of the grounds.
Petoskey Winter Sports Park | 10 Miles
Enjoy a day of ice skating and sledding at this outdoor recreation area. Skates are available for rent, or bring your own for some winter family fun.
Walloon Lake
Spend the day relaxing by the Hearth Room Fireplace, ice skate in the Village Green Park, and watch the fresh snow fall over Walloon Lake from your heated private porch. Winter Sport rentals are available from Tommy's Walloon.
Explore more Winter Activities