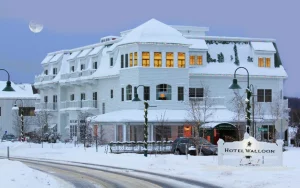 By Heather Johnson Durocher, published by MyNorth Media
Searching for the perfect winter getaway? Head to Hotel Walloon in Charlevoix County for incredible hospitality, unparalleled amenities, a heated outdoor spa and so much more. 
The sky is streaked in creamsicle and purple as my husband, Joe, and I turn off the main highway, away from the Lake Michigan shoreline, and begin navigating hilly, winding country roads toward Walloon Lake and our destination for the weekend: 
Hotel Walloon
.We cross paths with only a few cars and comment that it's been a while since we last drove these roads together—years ago, on weekend afternoons traveling between our home in Traverse City to visit close friends in Boyne City with three young kids in tow.
While we cherish those trips, we're also enjoying the freedom of doing something extra special every now and then, just the two of us—like booking an overnight stay at this lakeside boutique hotel. It'll be our first time at Hotel Walloon and we know we'll savor every minute, both inside and out. Not only is this hotel situated in the quaint village of Walloon Lake, on the south arm of this pristine Northern Michigan body of water, it's also perfectly located near myriad trails and state forests, and it's close to numerous wintry attractions, from skiing and snowboarding at Boyne Mountain to fat tire biking and horseback riding at The Highlands in Harbor Springs. We're looking forward to a weekend of relaxation and exploration.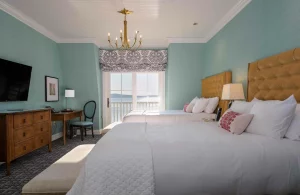 Hotel Walloon's impressive hospitality began well before we arrived.
Our emailed room confirmation includes the typical important information—check-in/check-out times, room description, etc., but also invites us to share a few more details so that hotel staff may best prepare for our stay. These special touches—asking for our vehicle type and color so that guest services can greet us personally, inquiring about food allergies or environmental sensitivities, and offering to make restaurant reservations on our behalf, at the hotel itself or within the village—left me feeling even more excited about our stay. An additional email goes a step further, asking us to answer a few short questions "so we can prepare your stay just as you like it." How firm or soft would we like our pillows? Would we care for ice, a bottle of champagne or chocolate-dipped strawberries to be waiting for us? I felt pampered before I even closed my inbox.
The first thing we see as we pull into Walloon Lake is the lit ice skating rink alongside the lake. A couple of people glide and twirl across the smooth, frozen surface, as Joe and I agree we will have to check that out. This small, quiet village is a breathtaking winter vision. As snow softly falls, it feels as though we've taken a step back in time. At the very least, time most definitely has slowed.
Hotel Walloon, which appears simple and elegant yet also majestic given its size compared to the other buildings in the village, sits just past the ice rink. We've opted for complimentary valet service. Owen, the concierge, is expecting us after we'd given the hotel a call on our way there. He greets us as we pull into the entrance, and tells us that Chuck will take care of our vehicle and help us with our luggage once we arrive under the dark green awning alongside the hotel.
Owen and Chuck assist not only with checking in and taking our luggage to our lakeside room but also in answering our questions—"Please tell us about that ice rink!" The skates can be borrowed at no cost, Chuck tells us with the most genuine smile. They also explain the complimentary food service in the Hearth Room from 7 a.m. to 11 p.m. each day. Is there anything better than having the ability to get a small bite to eat and a drink after traveling, even if it was only an hour or so drive? I'd argue no.
We soak in the beauty of our gorgeous balcony room. When we made our reservations, we realized that Hotel Walloon has accommodations that cater to any kind of mood—private balconies overlooking the village; ground floor rooms that share a covered porch (or private balcony); suites consisting of one and two bedrooms with a kitchenette, some offering full views of Walloon Lake.
Suffice it to say, any room at this hotel is going to make a lasting memory in the very best way.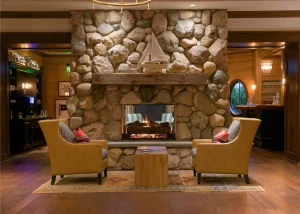 With our 7:30 p.m. dinner reservations at the hotel's adjacent restaurant still an hour or so away, we decide to take advantage of the Hearth Room's comfy seats, appetizers and drinks—and roaring dual-side fire. As we settle into our seats, glasses of sauvignon blanc in hand thanks to bartender extraordinaire Chris, and enjoy the delectable small plates before us, I wonder, "Should we just stay right here?"
But dinner at the nearby Walloon Lake Inn is too tempting to pass up. Owen offers to drive us to the Inn from the hotel. It was all of 150 feet away. He insists. We agree. Why not? We sheepishly thank him for the ride upon arrival, which was totally within walking distance. "That's what everyone says," he chuckles as we get out of the luxury vehicle.
A historic fine dining establishment that was renovated in 2014, Walloon Lake Inn is a unique upscale restaurant offering indoor and, in warmer weather, outdoor dining. Its reputation for creative cuisines, custom wine pairings, elegant atmosphere and unparalleled service make the Inn a must-do culinary experience.
We opt for the restaurant's four-course dinner special—an appetizer, salad, main course and dessert for $60 per person. To start, we share the truffle fries and the tempura fried ahi tuna roll, featuring cucumber, carrots, avocado, spicy aioli and a sweet soy glaze. Paired with a bottle of cabernet sauvignon, we're off to a most delectable start.
For our next course, Joe chooses the winter vegetable salad topped with pomegranate seeds, feta cheese and pecan-maple vinaigrette, while I go with the Walloon wedge with blue cheese, bacon, slow-roasted heirloom tomatoes and blue cheese dressing.
Picking our main course isn't easy, but I finally land on the braised short rib (I'm sold on the whipped potatoes) and Joe goes for the 5-ounce chargrilled filet of beef with a wild mushroom and Parmesan risotto cake. To top it all off, we indulge in pots de crème (a vanilla bean whipped cream) and the cheesecake—both amazing!
After dinner, we walk back to the hotel, contemplating a dip in the heated outdoor spa—we were told at check-in that it's one of the most popular amenities at Hotel Walloon, and it does sound relaxing. But it's been a long day and we instead decide, this time, to have a nightcap in the Hearth Room before heading upstairs to our room.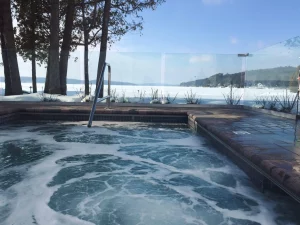 We've long known of Ernest Hemingway's ties to this particular slice of Northern Michigan heaven, and the famous author's presence is felt immediately upon arriving in Walloon Lake—from the roadside plaque in his honor to the Hemingway mentions and memorabilia at local businesses, including Hotel Walloon.
Hemingway was just three months old when he made his first trip from his hometown of Oak Park, Illinois, to Walloon Lake where his parents, Clarence and Grace (Hall), had purchased property along the North Shore. He would spend time every summer until 1922 at the family's beloved Windemere Cottage (including his 1921 honeymoon), and the cottage is still owned by descendants of the Hemingway family.
In September 2021, the Village officially added a series of historical signs in the Village Green Park, which tell the story of early visitors and residents of Walloon Lake from the trains, passenger steamboats and resorts as well as several pieces specific to Hemingway, in partnership with the Michigan Hemingway Society.
Hotel Walloon also shares on its website that Ernest Hemingway had many iconic adventures during his summers spent on Walloon Lake and the surrounding areas, and provides information to guests so they too can walk in Hemingway's footsteps, read classic novels and learn about his beloved North.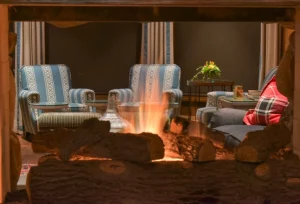 The next morning, after checking out, we decide to wander over to the ice skating rink. After a few tentative steps, I begin to find a groove (somewhat at least) and, as I skate, Joe snaps photos. Another life transition—getting on ice skates for the first time in years.
After returning our skates, we stop by the Walloon Lake General Store for water and snacks to take on our next winter outdoor adventure. Centrally located between Petoskey, Boyne City, Charlevoix, Traverse City and Mackinaw City, Hotel Walloon is the perfect "home away from home" to enjoy all the many adventures Northern Michigan has to offer.
We'd brought our snowshoes and chose to travel to nearby Boyne City and Avalanche Mountain Preserve for a mid-morning hike. It was cold but satisfying. We promised ourselves a longer trip next time when we could return to Hotel Walloon's whirlpool spa and cozy Hearth Room after our winter outing. But today, a great lunch at nearby Lake Street Pub hit the spot before we headed back to Traverse City, taking those winding roads back home.
We left Hotel Walloon grateful to their team for noticing the little things and making an extra effort to make us feel special. We all need this, now more than ever. Life is full of surprises and hardships and twists and turns, much like the roads that brought us to this serene and classically beautiful place. We're thankful for this time away, and to have Hotel Walloon as the perfect spot to pause in the midst of it all.