Article Published by Country Living Magazine June/July 2021 Issue. Written by: Jeanne Ambrose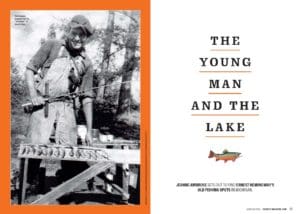 Jeanne Ambrose sets out to find Ernest Hemingway's Old Fishing Spots in Michigan. 
I'm no Ernest Hemingway, but I admit to falling in love with the northern Michigan stomping—and fishing—grounds that inspired him to write so many stories.
Born in Oak Park, Illinois, Hemingway spent his first 21 summers at Walloon Lake just south of Petoskey. This was where his father taught him to fish, hunt and camp in the wilderness. Some of his best short stories were set in Michigan, my home state, including "The End of Something," "Big Two Hearted River" and "The Last Good Country."
I was determined to see if the pristine wild depicted by the earthy writer still existed. It does. And the fishing is still good, if you know where to look.
Hemingway Country
I started at Walloon Lake's public access and boat launch southeast of Horton Bay at the end of Sumner Road. This is where young Hemingway swam and fished—the place he wrote about in "Wedding Day." It's a tiny spot with a stunning lake view. Surrounded by trees and history, the lake is not far from Windemere, the Hemingway family's summer cottage.
You'll find plenty of trout here—rainbow, lake and brown—along with bluegill, bass, walleye and northern pike. Although Hemingway got his start fishing on Walloon Lake, he often ventured beyond that area, making memories he would write about in the semi-autobiographical Nick Adams stories, among others.
Traipsing in his boggy footsteps today will send you to areas that feel nearly as wild and isolated as they were during Hemingway's time in the early 1900s. "One of the most famous of his haunts is Horton Creek," says Chris Struble, president of the Michigan Hemingway Society and owner of Petoskey Yesterday.
Chris, who calls himself a Hemingway nerd, offers historic tours and guided fishing trips of the area. "We absolutely put our guests within feet of where Hemingway once fished," he said. Chris suggested that I check out the Nick Adams Nature Preserve first. I was exploring solo that summer day and was entranced by the beauty and isolation of the area, about a 10-minute drive north of Horton Bay General Store.
Fishing For Brookies
I knew I was entering Hemingway country when the main road turned into a sandy two-track with trees leaning in to form a leafy tunnel. No other human was in sight and the barely discernible road meandered for nearly a mile until it reached a slight clearing and a big wooden sign indicating I had reached the Nick Adams Nature Preserve. From there, I found a hardly visible path leading into the heavily wooded area.
The sandy path soon became discouragingly swampy, snatching at my shoes. I was ready to turn back. Then I heard it, just before I saw it: the burbling, splashing sounds of flowing water. This was Horton Creek, the wildly beautiful spot where Ernest Hemingway fished for his small but beloved "brookies," or brook trout. If you run across old photos of Hemingway in Michigan, he's probably showing off these small fish—rarely longer than 10 inches—covered in yellow, orange and/or red speckles.
Both sides of Horton Creek are accessible. I chose the not-so-accessible side. The other side is family friendly and a bit easier to maneuver. Because some trees and brush have encroached on Horton Creek, fishing is a little more challenging than it was when Hemingway used his rod to catch dinner. The trees make it difficult for fly-casting. "It's not easy. But it's very intimate," says Brian "Koz" Kozminski, fly-fishing guide and owner of True North Trout. "The area is mesmerizing, with shallow cool riffles. The creek is lined with watercress dancing underneath where trout like to hide."
Into The Wild
However, if you're really looking to catch a lot of fish, head to Pigeon River Country State Forest, the area once known to Hemingway as "Pine Barrens Country." The Black, Sturgeon and Pigeon rivers are all within a few miles of each other in the 109,000-acre area that Hemingway called "wild as the devil."
The state forest is a few miles northeast of Gaylord in north-central Michigan and is still remote enough that it is home to nearly 1,000 free-range elk. It's also remote enough that you'd be wise to bring an old-fashioned map and compass because cellphone coverage is spotty. But who needs a cellphone when the fishing is fantastic and the scenery is stunning? The DNR manages the forest to keep its wild, undeveloped character.
Trout are as plentiful in the Black River near Gaylord as they were when the writer cast a line here. It's probably the best place for brook trout in Michigan's lower peninsula, according to Brian. "I'm particularly fond of the area from Tin Shanty Bridge all the way down to the stairs on the Black River," he says. Fish love the river's sandy bottom and the submerged logs in that area. Be sure to check fishing regulations; catch-and-release rules are typical around here. On the Black River, for example, don't expect to take a whole mess of brookies to cook over the campfire as Hemingway probably did. A daily limit of two fish applies at Tin Shanty Bridge.
While you're in the area, check out the Sturgeon River, where the fishing was so good during Hemingway's era that it caused him to be late for his first wedding to Hadley Richardson back in Horton Bay. Or head north across the Mackinac Bridge toward Seney and the Fox River in the Upper Peninsula (featured in "Big Two-Hearted River.")
Whichever fishing hole you pick, tuck your copy of The Nick Adams Stories in with your fishing gear to get happily lost. Sometimes it's not so much about catching fish as it is about fishing. As Brian says, "There's something about being on the water, especially when the sun goes down. You see all different points of nature coming together at once. Nothing can compare."