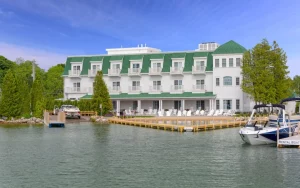 Most Boyne Falls and Petoskey-bound tourists miss the nearby village of Walloon Lake. Surrounded by forested rolling hills, the lakeside landing place is plucked straight from a summer vacation storybook. It offers the beloved emblems of up-north-lake-town perfection: an adorable ice cream stand, waterfront dining, an assemblage of gift shops and cottage-strewn streets. After being charmed by the community on a recent joyride, I planned a special trip to visit its crown jewel: Hotel Walloon, a Four-Diamond boutique hotel. It is a hidden gem with a reverence for its roots. Though it opened in 2015, the Northern Michigan hotel's vintage charm and intentional design transported me to bygone times.
In the early 1900s, Walloon Lake was a celebrated tourist hub for summer vacationers, including Ernest Hemingway. Sun-kissed broods of travelers flocked to family cottages and resorts along the lakeshore to soak up the pure beauty of the wooded glacial lake. If the lake itself is the soul of the place, the village is its heart. During its glory days, it swarmed with delighted hotel and cottage dwellers swimming, fishing and boating their way through the sunny season. At its height, the lake hosted eight resorts. But Walloon Lake's heartbeat slowed to a near halt in the early 2000s due to the economic downturn. Hotels, restaurants and shops closed their doors, including The New Walloon.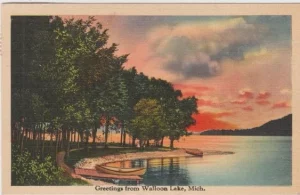 Still, the compelling beauty of the lake remained. In recent years, Jonathan L. Borisch, a retired defense contractor who grew up summering on Walloon Lake, sought to awaken its sleeping summer-vacationland spirit. Borisch's fond memories of incredible dog days spent in the community at its peak inspired his vision to revive Walloon Lake as a resort oasis. In 2015, Borisch opened Hotel Walloon on the same section of lakefront that the original 19th-century Hotel Walloon called home. The Borisch family scrupulously revitalized and protected the vintage character of Walloon like a conservationist thoughtfully restores and protects a nature preserve. Each step of the way, they worked in coordination with the wishes of all those who treasure this place.
When I arrived at Hotel Walloon, I immediately felt its magnetic pull. Northern Michigan's timeless spirit of adventure, hospitality and beauty is baked into its bones. The bright-white hotel exterior, emerald-striped awnings, geranium-laden porch and robin's egg blue sitting room are nods to Michigan's most famous luxury hotel: Mackinac Island's Grand Hotel. The resort exudes both opulence and that wonderful homey familiarity that a family cottage emanates. It's like visiting Grandma's cabin, but with heated marble bathroom floors, turndown service and a plush robe. Every design element—from the Northern Michigan barnwood mantles in the lobby to the copy of Muhqua Nebis: A Compilation of Legends of Walloon outfitted in every guest room—pay homage to the cherished history of the region.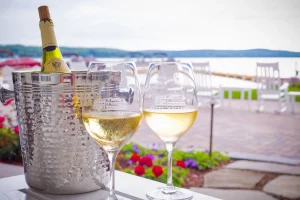 The lobby has a family room feeling, like a lovely bed and breakfast or beloved cottage, complete with a fieldstone fireplace and thoughtfully curated games and coffee-table books. Northern Michigan artifacts sourced from the village's antique shop—The Vintage Mercantile—such as postcards, snowshoes, fishing decoys, feather darts and ice fishing tip-ups are artfully framed on the walls.
After checking in, I decided to wander the town and scope out choices for dinner. The Walloon Lake Inn, just a short walk from the hotel, offers unique dining in a historic inn that has been on the shores of Walloon Lake for 100 years. Renovated in 2014 and offering indoor and outdoor dining, you can still experience the beautiful setting that people arriving by steamer must have treasured.
This trip, I chose Barrel Back Restaurant, an open-air grill with sweeping views of the lake, just a few steps out the resort's doors. Looking out from the restaurant's balcony, the intentionality of every darling detail of the community is clear (from the shops housed in tiny cottages to the pristine waterfront park).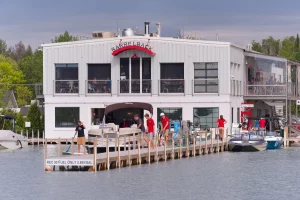 After dinner, I walked across the street to an impossibly nostalgic ice cream shop, loaded with candy, vintage toys and happy children. Nearby, suntanned families docked their boats for ice cream cones of their own. The fresh fluidity of the community is so alive and attractive, it's difficult to imagine it ever dwindled.
Every time I reentered the hotel from an adventure to the resort's private waterfront beach, the lakeside outdoor heated spa, or a nearby restaurant or shop, affable staff welcomed me home. Depending on the time of day, a new edible delight awaited me on the buffet each time I passed through the lobby, including breakfast, fruit, candies, desserts and evening hors d'oeuvres.
After dinner—and ice cream, of course!—I lingered in the hotel's burgundy billiards room, taking in the glass negative photos of Native Americans and deer hunters from the region in the 1800s hanging on the walls. Every nook of the building has Michigan-history-inspired details that fill you with an authentic sense of place. I ended my evening with an old fashioned and a game in the hotel's hearth room. A bartender mixed my cocktail while I settled into an armchair and selected Scrabble tiles.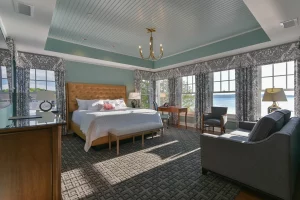 When it was time to climb into bed, I felt enveloped by refreshing hospitality. A hand-signed note, a lush bed and an elegant bathroom awaited me in my room. Like the rest of the hotel, my room's design celebrated the up-north atmosphere. The guest room walls are painted a soothing blue that's reminiscent of the shades of the lake. Photographs by Northern Michigan artists adorn the walls, and blankets with a forest green pinecone insignia lay near the foot of the bed.
My stay in Walloon Lake gave me a sense of peace I consistently chase in our modern era. It is the sweet relief that lives in our daydreams about idyllic summer afternoons on the water and bucolic winter nights near a fire. It is the deep sigh we take when we are away from it all, yet profoundly connected with our place and our tribe: Northern Michigan and those who treasure Northern Michigan. It is a rare respite made possible by Hotel Walloon's meticulously crafted world—an authentic wonderland of unadulterated Up North nostalgia.