A Year-Round Destination
Selecting a season for your wedding is one of the first, exciting steps a couple takes to begin their wedding day venture.  The Village of Walloon Lake offers flexibility, venue options, customized wedding coordination, and exceptional hospitality with unmatched personnel, in every season.  As a year-round venue, we consistently see couples with unique and inspiring visions brought to life on the Lake.
Winter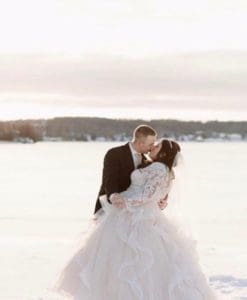 Cozy fires, mugs filled with hot cocoa, fluffy white snow, and a serene view of Walloon Lake is a small glimpse of a winter wedding in the Village.  A winter wedding with a powdery-white backdrop is a dream come true and to make sure you have snow on your wedding date for the perfect wedding photos, Northern Michigan is the place to host your 'winter wonderland' wedding.  An extra layer of an embroidered capelet, a chic wedding jacket, or swoon-worthy stole, will keep you warm and stunning to fend off the chilly breezes.  The winter season may waylay your guests from arriving timely or traveling to Walloon Lake, so the perfect intimate winter soiree in Walloon is to host a Hotel Walloon buyout and partner an additional venue in the Village to cater all your food and beverage needs.
Hotel Walloon is a luxury boutique hotel that offers 32 guest rooms and can sleep up to 90 guests.  We offer our couples a complimentary One Bedroom Lakeside Suite, which is often used as the couple's suite. Hotel Walloon is donned with cozy accents, winter metallics, and seasonal foliage, so the main hub for you and your wedding guests is already perfectly winterized.  Hosting a wedding buyout gives the family and the couple time to mingle and celebrate with their guests all weekend.  You can start by hosting welcome drinks in the lobby upon arrival, have your rehearsal dinner on the back porch at Hotel Walloon under the glowing heaters and exquisitely decorated porch, followed by a day of wedding festivities, and concluding with a fond farewell brunch in the Hotel lobby on the day of departure.  On the day of the wedding, our couples often choose to host a winter wedding ceremony on Hotel Walloon's patio with cocktail hour following the ceremony at the Hearth Room Bar.  The wedding dinner can be transitioned to the Walloon Lake Inn for an intimate and fine dinning experience, paired with the perfect drinks recommended by the General Manager who is a certified Sommelier.
In the winter season Hotel Walloon offers lower room rates and costs, along with all of the vendors in Northern Michigan.  Weddings may seem a bit more logistically challenging, but they aren't.  When you select a full service boutique venue, we will do all of the second guessing, plan b's, and planning for you.  It will be the luxe winter wedding of your dreams.
Spring
The buzzing excitement of warmer weather, flowers blooming, longer days full of sunshine, and a serene quiet and stillness that comes off the cusp of winter is spring on Walloon.  Spring offers mild temperatures with an underlying energy that is behind the winter thaw.  Family and friends are excited to embrace the weather and celebrate.  In the springtime an indoor/outdoor venue is viably ideal due to the slight uncertainty of Northern Michigan.  If it's cooler, heaters and a fire pit are available, but if it's warmer candlelight and breathtaking waterfront views are just steps away.  The season of spring offers a variety of color palettes and moods to choose from too.  You could plan a moody and elegant feel, or if you prefer the bright outdoors with pops of color, you could run with that vibe too.  Or perhaps you like the idea of blending the winter moody and summer color vibes?  Then the Walloon Lake Inn is for you.
The Walloon Lake Inn is a venue that boasts crystal chandeliers and pops of colorful spring flowers and greenery perfectly manicured around the waterfront patio. The Inn provides our guests with a hard to come by location and venue layout, offering indoor and outdoor waterfront dinning.  The newly renovated private dining room, The Varnish Room, offers a place for the ladies or lads to get ready day of.  A full bar, ladies powder room, and a table for (16) guests can cater to any events hosted during your wedding day.  The ceremony can be hosted Lakeside right on the lapping shores of Walloon Lake.  With the sparkling glacial waters of Walloon, the backdrop is sure to not disappoint as you say, 'I do'.  You may choose to have your guests dine under the stars on the patio or softly lite romantic lighting from a perfectly curated tent.  A firepit, heaters, flowing white linen, and black wrought iron furniture are optional compliments for you to select from and design into your wedding reception.  The lounge and bar area are home to a baby grand piano that is waiting to serenade your guests during their three-course meal, delicately prepared by chef. A dance floor and entertaining space extends to the patio for guests to dance under the stars or twinkling pergola lights all evening.  At the end of the evening, guests can leisurely stroll back to Hotel Walloon to turn in and rest. This historic piece of Walloon Lake property has an allure that is unbeatable.
Spring has truly not flourished until the white Adirondacks are pristinely positioned along the patio of the Walloon Lake Inn, the edible floral garden is perfectly groomed to compliment chef's dishes, and the lawn is freshly groomed for our next perfectly paired Walloon Lake Inn couple.
Summer
Sweet summertime means blue skies, warm lake breezes, the soft humming of boats strolling the shores, and gorgeous weather.  There is a draw to Northern Michigan in the summertime.  The Village of Walloon Lake is a hidden oasis, off the beaten path.  Upon driving into the Village of Walloon, guests immediately notice the quaint businesses and immediately feel a sense of calm and belonging.  The sunshine-filled days of summer compliment any wedding and adds burst of Lake colored hues that you didn't know your wedding day needed.  The Village Green Park offers the calming natural hues and easily elevates any color and flair that you bring to your wedding day.
The Village Green Park offers our couples a lakeside ceremony and reception location.  The Park is nestled on the shores of Walloon Lake and showcases the perfect cotton candy sunset every summer night.  A classic couple photo during golden hour is a necessity and almost impossible to miss.  Whether you select a tent that is outfitted with draping, wispy Similac, and a large stage for your 8 piece band or prefer your guests to celebrate under the stars with Edison bulb perimeter lighting and an up-light dance floor, you cannot choose wrong.  Sparkling wines, champagne spritzers, and fruity cocktails are the perfect creative addition to keep your guests intrigued and quench their thirst.  The only limitation the Park provides is the limit to your imagination for your wedding day.
Summertime in Northern Michigan has become a well-known verse from a rather well-known song, and if you haven't experienced a summer wedding here, it's only a matter of time before you do.  Why not make it your wedding destination?
Fall
Bursts of gorgeous fall foliage reflecting on the pristine lake showcases a mirrored and breathtaking view on Walloon.  An autumnal affair offers a cool, fireside, cozy scene that is quintessential to a Northern Michigan Fall.  The infamous true golden hour can be easily captured, with multiple locations available for the picture-perfect spot along the lakeshore.  To say 'I do' under the warm vesper glow on the hotel patio, transition to a lush, landscaped patio at the Talcott for cocktail hour, then flow inside to a lattice laced ceiling, customized wedding space that was coordinated with the event team, completely perfecting what you had always envisioned.
Hotel Walloon is the place most couples envision for their perfect lakeside, intimate ceremony.  The Hotel is perfectly placed on the shores of Walloon Lake.  The back patio offers a beautiful brick patio that overlooks the Lake and the rolling hills of the crimson Fall glow.  The Hotel has a vintage elegant look that was masterfully created and instills a sense of calm and luxury that is unparalleled.  Following the ceremony, guests are graciously led across the street to the Talcott where romantic lighting, extra-large rich flowerpots, and a champagne wall is awaiting your guests' arrival.  After a bountiful cocktail hour, guests transition inside the Talcott which was skillfully designed by the event team.  The Talcott offers the capability to customize and exquisitely blend nearly any wedding vision.  It is a blank canvas waiting for a wedding masterpiece.  To compliment the wedding vision, signature cocktails and a customized bar package will keep your guests engaged in blown away by the day perfectly planned for the couple.  The evening has no limit and guests are able to celebrate well into the evening.  The patio is an extension of the wedding reception and would be regularly used on a cool and crisp autumn evening around the fireplace and heaters.
Falling for Fall is not hard to do and we will show you why.
Which season do you closely relate to?  Every season offers something for everyone, but which season holds your dream wedding?