Article Published by MLIVE on July 6th, 2015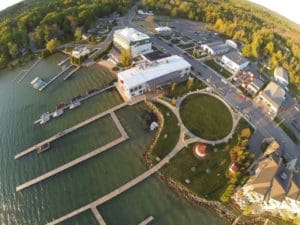 Just a few years ago, the outlook was bleak for the once-bustling northern Michigan resort community of Walloon Lake.
The recession, years of neglect, a court battle over the village lakefront and a private stranglehold on the local water system had given locals little reason to feel optimistic about the future of a dying village located at the foot of a pristine glacial lake that Ernest Hemingway once called home. But a lot can change when money and motivation come to town.
Homeowners, township officials and others around the 9-mile long Charlevoix County lake have watched with some incredulity as a single developer from Grand Rapids has, in just three years, put the brakes on a decades-long spiral of disinvestment and rebooted the village as a destination.
"If you had seen that village five years ago and said it would look like it does today, people would have laughed at you," said Bob Saddler, a homeowner and director of the Walloon Lake Association.
Just off the beaten path to Petoskey along U.S. 131, the village of Walloon Lake is again drawing visitors thanks to the efforts of developer Jonathan L. Borisch, a former defense contractor whose initial retirement years have largely been spent rescuing the village where he spent his boyhood summers.
In the past three years, Borisch and his son, Matt, have transformed the once-weedy pass-through into a draw by opening retail shops, restaurants and a 32-room hotel next to a circular village green that occupies land once eyed as a condominium row.
Today, the village boasts about 30 businesses, roughly half of them seasonal. Prior to the Borisch family's arrival, there was only one — a longtime general store. Their success is largely credited to a collaborative approach that has involved significant input from local stakeholders — everyone from township planners and neighbors to the village old-timers who meet mornings at the general store. "You need to sit and have coffee with them," said Borisch, 61. "You run your ideas by them and they make you smarter."
It's a Brand New Village
A warm west wind tossed boats around the marina as Borisch walked into the village general store, filled with Memorial Day weekend vacationers. "Uh oh," said the clerk, good-naturedly. "Here comes trouble."
Trouble might be a strong word for someone like Borisch, a quiet fatherly type who graduated from East Grand Rapids High School in 1972. His family has summered on the lake for several decades in a cottage said to have sheltered a young Hemingway one night when the author's rowboat was forced off the lake by a storm. In 2012, two years after selling Borisch Manufacturing Corp., an aerospace technologies contract manufacturer he started in 1994, Borisch began a second career as a commercial real estate developer operating out of a family office called Steadfast Property Holdings in downtown Grand Rapids.
He bought McKay Tower in downtown Grand Rapids for $10.5 million and, up north, started buying property along M-75 in Walloon Lake. Today, after assembling parcels bought from three owners in one fell swoop, Borisch and his sons own about 80 percent of the village's commercial land and an off-site sewer system.
On that land, Borisch has built the new Hotel Walloon, a three-story year-round waterfront inn designed as homage to its Progressive Era predecessor.
Across from the hotel, which opened May 18, stand a pair of historic lakefront cottages that were saved from the wreckers and repurposed as retail storefronts. Those house an antique shop and a jewelry design studio. Next door, a renovated commercial building houses professional offices and an art gallery.
Next to the hotel is the Barrel Back Restaurant, a year-round upscale dining spot that opened in 2013 overlooking the lake. Under the restaurant, Matt Borisch operates a 60-slip marina out of Tommy's Michigan, a watersports retailer that just opened a location in Grand Rapids. The restaurant opening represented a "Field of Dreams" moment for the family, who had been investing millions in the village on a major gamble. "When the Barrel Back opened two years ago, we were holding our breath," said Borish. "We didn't have any idea whether or not people would come back after being gone for decades. But they did, so that encouraged us to do more."
Across from the village green, Borisch built a small plaza of 50-square-foot sheds that house artisans selling crafts, apparel, home goods and souvenirs. Clustered together next to a new bakery, the shops have become a mini destination on their own. "Those pop-up stores, as nice as they are, are illegal in most towns in Michigan," said Robert Gibbs, a Birmingham-based planning consultant whom Borisch tapped to plan the village redevelopment. Most municipal building codes require structures have full footing, plumbing, heating and cooling and other features before occupancy is permitted. By working closely with the community "Jon was able to pull this off," Gibbs said.



'What Does the Community Want?'
To say Melrose Township officials were incredulous when Borisch showed them his initial plans for the village would be an understatement. Locals had been gun shy of developers ever since the township emerged in 2004 from a multi-year court battle with developer Lou Mettler, who wanted to build condominiums along the waterfront where Borisch has since built a village green.
Hemingway Country
The village of Walloon Lake, located at the "foot" of its paint splatter-shaped namesake, is reclaiming its historic status as a destination getaway.
When the Grand Rapids & Indiana railroad brought visitors around the turn-of-the-century, the lake was called "Bear Lake," derived from the Native American name Muhqua Neblis, meaning "bear water." The village was named Talcott until it was changed to Walloon Lake in 1900, a time when the community numbered about 300 and was frequented by vacationers from urban centers like Chicago, Detroit and Grand Rapids. By 1905, the village boasted multiple hotels and stores, a depot, boat livery, stables, small manufacturers and more.
The lake is closely associated with literary giant Ernest Hemingway, whose family bought a cottage on the lake named Windemere. Hemingway, who spent his boyhood years on Walloon, used the area as setting for a series of short stories featuring alter ego character Nick Adams. Condos, it was feared, would have cut off the public from the lake and officials argued the proposal lacked the ground-level commercial space required by the township master plan, which the court case demonstrated had not been written specifically enough to withstand a legal challenge.
The township eventually settled with Mettler and six condos were built across from the township park by a subsequent developer, Thomas Sebold & Associates, which bought the waterfront property about 10 years ago. That was the last construction until Borisch returned to Walloon Lake.
"Jon asked, 'What does the community want?'" said Randy Frykberg, township zoning administrator and planner. "The next week, he came back with a brand new plan that had a park in the middle. "From there, things went much, much smoother."
Within weeks, the village green was sodded with grass and the park was open. Locals quickly began to take the Borisch family seriously. "He follows through," said Linda Penfold, 17-year owner of the Walloon Village General Store — one of the few properties Borisch doesn't own. "If he says he's going to do something, he does it."
The redevelopment has engendered a great deal of gratitude and trust for the Borisch family around Walloon Lake, but there are some lingering doubts about the changes among area homeowners, some of whom privately question whether their quiet lake life will become busier as more visitors find the area. Owners among a row of cottages adjacent to the new hotel voiced some opposition to the new construction; feedback that resulted in some property setback and size revisions but did not, ultimately, impede the hotel construction.
Although the consensus opinion about the redevelopment among local home and cottage owners is positive, concerns about the potential for more boating activity later in the evenings are being voiced to the lake association, said Saddler. "I think most people feel that what's been done and developed, and the overall look of the facilities, is really nice," he said.
Next Steps for Walloon Lake Village
The village, for all its strides, is still work in progress.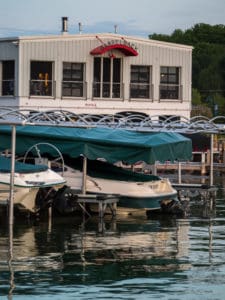 Gibbs said traffic speeds in the village need to slow. The main street is a state highway and speeds were raised from 25 to 35 miles per hour recently by the Michigan Department of Transportation. Next phase village plans include on-street parking and streetscaping meant to make the stretch safer for pedestrians. The streetscape improvements are likely to happen in conjunction with other infrastructure improvements. Melrose Township has plans for a new municipal sewer system that officials hope to pay for using federal grant money.
Frykberg said the township is also in the final stages of buying the private water system serving the village, a move that follows Walloon Lake Water Service owner Dennis Hass' agreement in 2013 to pay restitution after customers alleged he charged extortion-level costs for access to his private system. Just outside the village, spin-off development is also sprouting. At M-75 and U.S. 131, along the main road between Boyne Falls and Petoskey, the former Junction Inn, a small roadside bar, has been sold to a new owner who spent the past year renovating and reopening a nearby log construction skating rink. Around the lake, Frykberg said the township hopes to see more cottages repurposed into year-round homes as property values increase.
In the village, Gibbs said there are plans to build more shops and offices. The cottage stores need fences around the property and the entire street could use more trees. Borisch said he'd like to bring a trade school or satellite college campus to the area and find ways to increase business in the winter and shoulder seasons.
Those improvements are likely to happen, but with the new hotel open and the village again drawing visitors, Borisch is ready to sit on the boat dock, take a breather and enjoy the changes he has wrought. "I think this'll do it for me for a couple years, although there is demand for more retail and office space," he said. "We'll take it slow."
"Hopefully, now I'll be retired again."