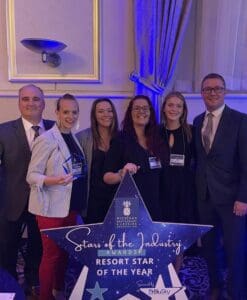 Hotel Walloon received 'Resort Star of the Year' at the Michigan Restaurant & Lodging Association (MRLA) annual 'Stars of the Industry' Awards Dinner honoring the hospitality industry's top leaders on Nov. 9.
The awards recognize outstanding individuals and organizations within Michigan's hospitality industry who have demonstrated professionalism and creativity while going above and beyond their role to contribute to the positive image of the industry. 
The Resort of the Year was awarded to Hotel Walloon as a standout Michigan property known for the experience it provides to guests, its room offerings, facilities, food, service and overall value. The winners were nominated by their peers and selected by a panel of industry leaders, and represent hotels, resorts and restaurants from across the state.
"We can't say thank you enough to our community for your continued support and to our incredible team at Barrel Back Restaurant, Walloon Lake Inn, and Hotel Walloon for all you do to create an unparalleled experience in Walloon Lake Village." said Nathan Bean, Hotel Walloon Resort General Manager. "This is why we do what we do, our team strives for excellence so we stand out and create those lasting memories for guests."
About Hotel Walloon
Named Travel + Leisure No.1 Resort in Michigan and No.3 in the Midwest, Hotel Walloon opened in 2015 and is located on the shores of Walloon Lake. The luxury boutique hotel hosts (32) spacious guest rooms and exclusive guest-only amenities. Dining opportunities are located a few steps away at Barrel Back Restaurant and Walloon Lake Inn. Offering an Up North atmosphere with endless activities, we encourage guests to explore the natural beauty that Northern Michigan has to offer while enjoying the vintage elegance and warm environment of the Hotel. The Resort is centrally located to Petoskey, Charlevoix, and Boyne City. For more information, visit www.hotelwalloon.com and Recent Press.
About the Michigan Restaurant & Lodging Association
Michigan Restaurant & Lodging Association (MRLA) is the recognized leader of Michigan's hospitality industry, providing essential services to the foodservice and lodging community. Founded in 1921 as the Michigan Restaurant Association and now known as the MRLA, the Association represents over 5,000 Michigan foodservice and lodging establishments. The industry plays an integral role in Michigan's economy, employing more than 595,000 people and creating nearly $40 billion in annual sales. For more information, visit www.mrla.org and www.detroitrla.org.