Planning a trip with parents, kids, grand kids and assorted family members can be an enriching collection of valued experiences. Each generation has the desire for authentic, unique travel experiences; experiences and accommodations that help create lasting memories and foster closer bonds for years to come.  Selecting a location where multiple generations of your family can be entertained and catered to, is one of the key elements to creating a memorable tradition.  Find your next multigenerational family oasis at Hotel Walloon, offering vintage elegance, Up North atmosphere and unlimited adventure.
Location, Location, Location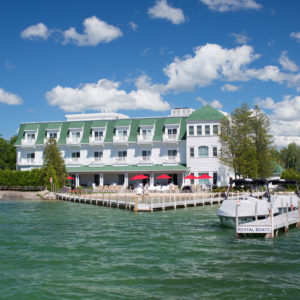 Northern Michigan's glacial blue bodies of water, like Walloon Lake, are sought after by families to unwind. The Village of Walloon Lake offers recreational options for all ages, including shopping at the Vintage Mercantile & Rumpus Room Coffee Bar, boat rentals at Tommy's Walloon, sundries at the General Store, fresh made chocolates and ice cream at Sweet Tooth Candy Store or women's resort wear by Tulip's Pop Up Shop.  Hotel Walloon also boasts a private and upscale beach with padded lounge chairs and umbrellas, docks slips, beach games, a private bar and complimentary beverages and snacks available all day in the Hotel's Hearth Room.  Exceptional dining experiences are in walking distance or easily accessible with a complimentary GEM car drive to your destination in the Village.  Barrel Back Restaurant and the Walloon Lake Inn offer unique experiences with lakeside dinning, mouthwatering menus and exceptional service.  From a family friendly atmosphere at Barrel Back, to the popular afternoon Walloon Wine Time at the Walloon Lake Inn to unwind, each restaurant features seasonally crafted menus and locally sourced ingredients that are designed for you and your loved ones by talented and passionate Chefs.
The 24-hour Front Desk Concierge is happy to assist in finding the perfect outdoor activity.  Northern Michigan is known for the unlimited adventures available at your fingertips.  Hiking, skiing (snow or water!), boating, snowshoeing, snowmobiling, ice fishing, wine tours and more are waiting for you. Enjoy all of these activities in the Walloon Lake Village or venture to the surrounding areas of Charlevoix, Boyne City or Petoskey to soak in their local charm and rich history.
Seasons for Your Family to Experience
WINTER – A cozy, luxurious winter sport getaway is always on the docket for a family vacation.   Winter is the perfect opportunity to snowshoe, ice skate or cross-country ski around the Village of Walloon Lake.  Equipment is complementary to Hotel guests.  Hotel Walloon is located 10-15 minutes away from major ski resorts in Northern Michigan.  After a day of activity, plan to relax with board games, classic novels and a relaxing dip in the outside Spa Whirlpool overlooking Walloon Lake. See Winter Activities Here
SPRING – Local festivals, outdoor hiking and biking, and blooms are everywhere.  The Morel Mushroom Festival is one festival that attracts visitors from far and wide, located just down M-75 in Boyne City.  Discover outdoor markets, farms, petting zoos, and a round of golf for the entire family on scenic Northern Michigan courses within a short drive from Hotel Walloon.  Transportation is available via Hotel Walloon's Denali to any location. See Spring Activities Here
SUMMER– Lounging on the Hotel's private beach and docking your boat just a few feet away from you, for easy access, is a quintessential relaxing day at Hotel Walloon.  Complimentary to our guests, you'll find towels sunscreen and bottled water available all day.  For our eco-conscious guests, we have recently added a water filling station.  An old fashioned steamboat ride around the Lake is something that everyone in your family would enjoy.  Book your ride complimentary with the Hotel Walloon Concierge.  Lakeside dining, in-room dining or in-your-boat dining is available for you and your family, catering to what works best for each adventure. See Summer Activities Here
FALL – The Petoskey Wine Region is becoming world-renowned for the unique harvests and unforgettable experiences enjoyed by those traveling to this area. Visit several local wineries and enjoy the famous Northern Michigan color season firsthand.   Wineries in the Petoskey Region are known to be very family-friendly with farm animals, trails, kid activities and family fun games. Hotel Walloon was recently honored to have been named the 2019 USA Today's 10Best Readers' Choice Best Wine Country Hotel, beating out several other hotels across the nation.  Come visit to experience why we were chosen to receive this coveted award! See Fall Activities Here
Modern Day & Luxury Amenities
The Hotel offers (32) unique guest rooms with (9) different room varieties.  The Lakeside rooms and Cottage View rooms have private foyers to offer connecting rooms and optional privacy for families. The Hotel's suites offer multiple bedrooms, pull out sofas and kitchenettes to make your stay feel like home.  The guest rooms are designed to offer a luxurious, comfortable getaway that anticipates every modern-day amenity.  Plush robes and slippers, high-end Beekman Bath amenities, heated marble bathroom floors, a personal Amazon Echo in each room, a pre-arrival email that inquiries about your bedding preferences, and a 24 hour Concierge available to assist with anything you may need is a touch of the unparalleled amenities and service one would receive at Hotel Walloon.  The Hearth Room, in the Lobby, offers four complimentary food presentations each day. The presentations include a selection of light breakfast items, snacks and fresh fruit throughout the day, an hors d'oeuvres presentation in the evening by the Walloon Lake Inn, followed by a dessert presentation.  We know traveling with family can require attention to an array of personal preferences, and our experienced staff will be there to accommodate each member. We are happy to cater to all dietary restrictions and preferences of your family.  Our exclusive Hotel Bar offers an intimate and warm atmosphere to enjoy among family.  Perhaps you may prefer to indulge in your favorite beverage on your private patio or porch in your guest room, all while drifting away with one of Walloon Lake's rich and mesmerizing sunsets.
Hotel Walloon is the next destination for your family, and we can't wait to create cherished memories for you and your loved ones to last a lifetime.
As Ernest Hemingway so fondly puts, "It's a great place to laze around and swim and fish when you want to. And the best place in the world to do nothing. It is beautiful country…and nobody knows about it but us."